| | | |
| --- | --- | --- |
| | | What is Kale? Kale is a hardy cabbage of a variety that produces erect stems with large leaves and no compact head. Kale is being called by many "the new beef," "the queen of greens" and "a nutritional powerhouse." Just give it a try.....its pretty filling for a leafy green and provides more iron than beef! Recipe Below mixed only with other raw food powerhouses to provide even more benefits! |
Benefits of Kale
Anti-Inflammatory

High in Antioxidants

Vitamin K, Vitamin C, Vitamin A,

Calcium, Potassium, Lutein

Low Calorie, Low Carb
Kale has more Iron than Beef

Kale has More Calcium than Milk

Kale has 10% More Vitamin C than Spinach

Nutrients in Kale benefit the eyes and skin, reduce the risk of heart disease and cancer, aid in weight loss, help lower cholesterol, and strengthen bones!

Fun Fact: The Greeks feed garlic to athletes before competing in the Olympics.
How to Prepare a Fresh Raw Kale Salad?
Mix raw kale, chopped garlic, fresh squeezed lemon juice, olive oil, red (cayenne) pepper flakes, and a touch of salt in a large bowl! Let marinate for a few hours or overnight. This is a very tasty salad with a potent punch of vitamins as EVERY ingredients is a power house of its own!
Click To View Video ~ The Benefits of Eating Kale and How to Prepare a Kale Salad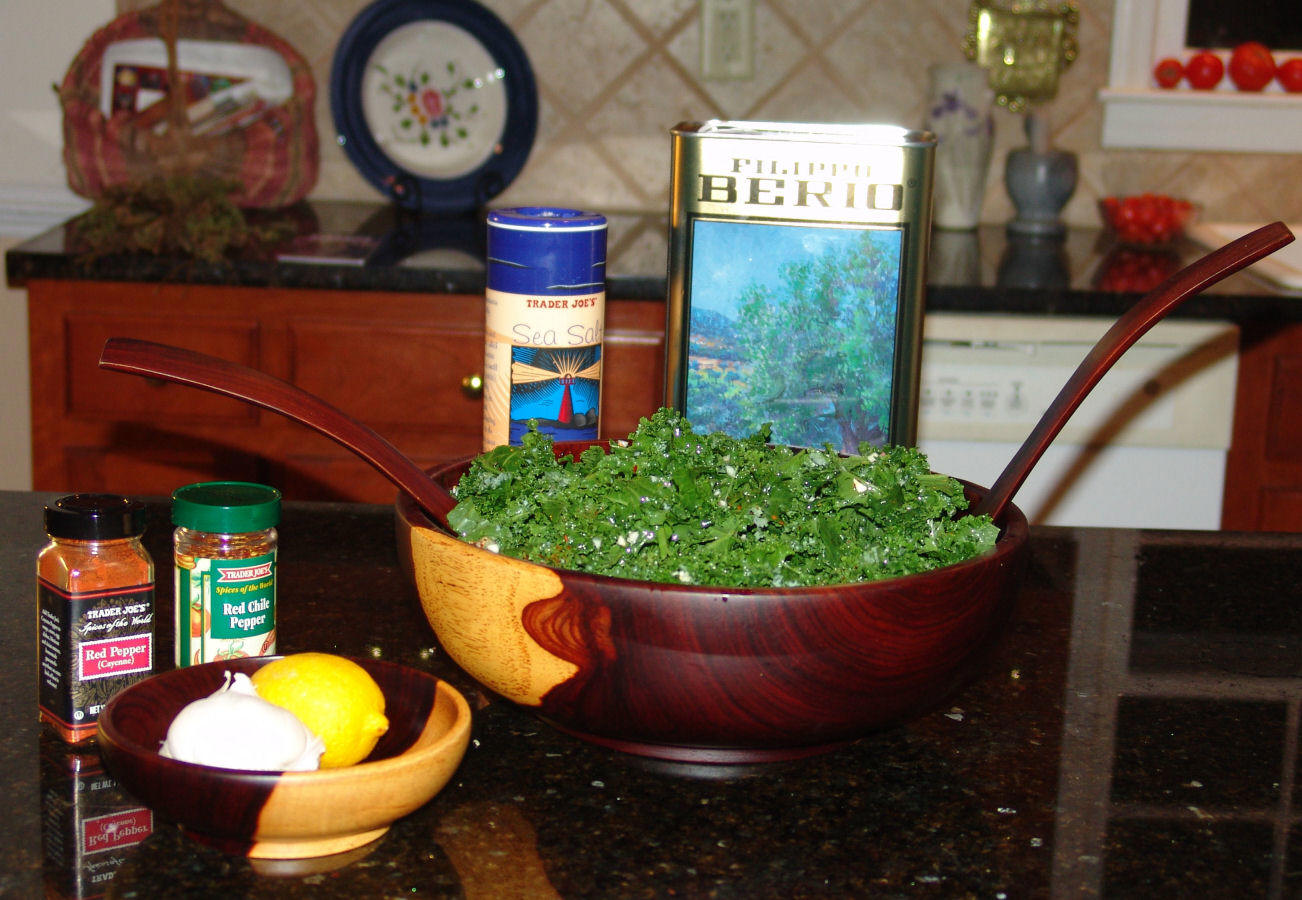 Visit our You Tube Cannel at http://www.youtube.com/user/naturalhealthcare01 The URL for this video is http://www.youtube.com/watch?v=x6JAiiNVuWU&feature=colike
Sources of Information:
http://www.mindbodygreen.com/0-4408/Top-10-Health-Benefits-of-Eating-Kale.html
LIVE THE NATURAL LIFE!
Note: The website www.naturalhealthcarestore.com does not provide medical advise. The site simply provides research data for informational purposes. The content included in this website is not intended to be a substitute for professional medical advice, diagnosis, or treatment. Always seek the advice of your physician or other qualified healthcare provider with any questions regarding medical conditions. Statements included in this website have not been evaluated by the FDA. Products carried by the Natural Healthcare Store are not intended to diagnose, treat, cure, or prevent any disease.