Helps treat Molluscum Contagiosum, Severe Boils, Shingles, HPV Warts, Hemorrhoids, Dermatitis, Cellulitis, Psoriasis, Poison Ivy, Diaper Rash, Bed Sores, Eczema and more!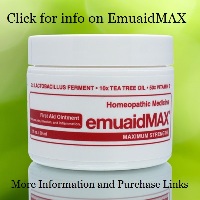 EMUAID® is manufactured by a FDA registered Over-the-Counter Drug, Homeopathic Drug and Medical Device facility. EMUAID® is regulated by the FDA as a homeopathic drug.
One of the Most Advanced Forms of Natural Healing Available!
Anti Bacterial, Anti-Fungal, & Anti-Viral First Aid Ointment

Reduces Pain, Infection, and Inflammation

Safe & Effective Doctor Recommended Natural Medicine