Zeotrex®

Rated Best All Natural Heavy Metal Cleanser

Zeotrex® is scientifically formulated to use power nano-colloidal zeolites and organic ingredients to safely aid the body in eliminating toxic chemicals and heavy metals. A clean, toxin-free body is the foundation for optimal health. 1 fluid oz
What is Zeotrex®?
Zeotrex® is a scientifically formulated, all natural product used to aid the body in the removal of chemical and heavy metal toxins.
Zeotrex® was developed using proprietary technology to incorporate the chemical and heavy metal cleansing ability of organic zeolites in combination with powerful angstrom-colloid chemical and heavy metal cleansing herbs, Liquid Micro-Trace Minerals, and Nano-colloidal Iodine in a base of Humic and Fulvic acid.
Most people are exposed to many toxic chemicals and heavy metals on a daily basis through the foods we eat, products we use, water we drink, and the air we breathe. Once in the body, heavy metals and toxic chemicals multiply the production of harmful free radicals (by up to one million times) and may cause deadly chain reactions. They poison the body, impairing the function of cells, tissues, and organs, and can ultimately lead a number of serious health concerns.
What are the benefits of Zeotrex®?
Chemical and heavy metal cleansing with Zeotrex® is the most effective, safest and easiest method available - guaranteed!
The first and only product in the world using a combination of organic zeolites, herbs and minerals produced from a unique proprietary process

Does not contain harmful fillers, binders or other additives

Backed with a 100% satisfaction money back guarantee

It assists your body in the safe removal of toxic chemicals and heavy metals

Requires no mixing or drinking horrible tasting concoctions

Does not require taking time off from work or interrupting your daily schedule

Can be safely used on a regular basis to maintain a clean body and flush out chemical and heavy metal residue

Is GMO free, Halal and Vegan suitable, Kosher Certified and made in the USA

No animal testing was performed with this product
How does Zeotrex® work?
The Zeolites in the formula are able to bypass the blood brain barrier and attract the chemicals and heavy metal in order to eliminate them from the body. The rest of the formulation contains ingredients that have been proven over the years to help rid the body of chemicals and heavy metals.
Each bottle contains 1 fluid oz.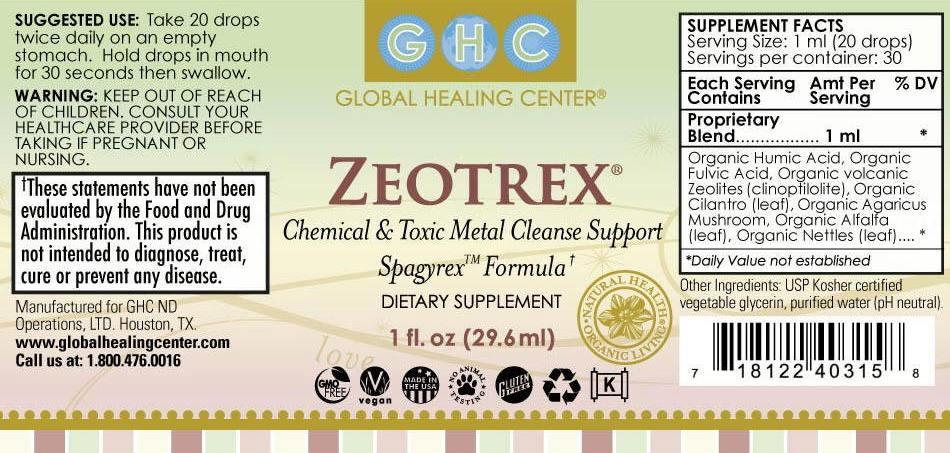 Ingredients:
Organic Humic Acid ~ Humic acid acts as an internal "detergent" to clean the bloodstream of hydrophobic compounds such as excess salts and lipids, and also provides organic minerals, such as magnesium and potassium, which are difficult to obtain through diet alone. Humic acid acts as a transport device to deliver the zeolites everywhere in the body they are needed. After dropping off their zeolites/nutrient payload, the humic acid molecules attaches themselves to a chemical or heavy metal molecule on the way out, helping both to be eliminated from the body. The end result is that overall health can be improved through two key actions: mineral support for enhanced nutrition, and better toxic waste removal.

Organic Fulvic Acid ~ Another powerful ingredient in Zeotrex® is fulvic acid which is derived from Humic substances. It's the natural byproduct of billions of microbial organisms found in special soil. Fulvic acid has properties that make it very beneficial to the detoxification process. It can bind with toxins like chemicals and heavy metals and transport them out of the body. Fulvic acid increases cell wall permeability which makes it easier to remove toxins from the cells. This also means that your cells can more readily use beneficial nutrients that are simultaneously introduced into your body.

Organic Volcanic Zeolites (clinoptilolite) ~ Volcanic zeolites are a remarkable naturally occurring substance formed between layers of ash. Zeolites have the property of being able to attract and bind with chemicals and heavy metals because of their negative ion charge. They also have a crystalline form made of tetrahedral chambers, which can hold the toxic chemicals and heavy metals that they attract, and then transport them out of the body.

Angstromcolloid Blend:

Organic Cilantro Leaf ~ You may know cilantro as an ingredient in food preparation. If you haven't heard of it, organic cilantro is quite useful in heavy metal cleansing. It is a powerful substance for helping to loosening lodged heavy metals. It binds with them and works with other substances to transport them out of the body.

Organic Agaricus Mushroom ~ These mushrooms give a powerful boost to the immune system. Its benefit comes from the fact that it contains Beta-glucans which are very beneficial for naturally stimulanting the immune system and promoting the natural growth of protective cells.

Organic Alfalfa Leaf ~ Alfalfa leaf contains powerful nutrients such as vitamin K and calcium that can help restore depleted levels in the body. When you have an overload of toxic chemicals and heavy metals in your body, alfalfa also helps facilitate elimination via the bowel.

Organic Nettles Leaf ~ Nettles leaf is a powerful stimulant for your intestinal system. It has natural diuretic properties. So, once the molecules of the fulvic and humic acids have combined with the toxic ions and the Zeolites have secured them for transport, the nettles leaf will help your body to expel them quickly.
Other Ingredients: Kosher certified vegetable glycerin; Purified magnetized water (pH neutral); Liquid micro-trace minerals.
Manufacturers Suggested Use: Take 20 drops twice daily on an empty stomach. Hold drops in mouth for 30 seconds then swallow.
Following the regular maintenance suggestions for Zeotrex® helps keep the body cleansed from chemical and heavy metal buildup. However, to reduce the need for maintenance dosing, try following the suggested diet and slowly eliminate the source of chemical and heavy metal toxins from your environment with the "Green Living" Cleanse.
Warning: Keep out of reach of children. Consult your healthcare provider before taking if pregnant or nursing.
Source: Manufacturer provided information.
LIVE THE NATURAL LIFE!
Note: The website www.naturalhealthcarestore.com does not provide medical advise. The site simply provides research data for informational purposes. The content included in this website is not intended to be a substitute for professional medical advice, diagnosis, or treatment. Always seek the advice of your physician or other qualified healthcare provider with any questions regarding medical conditions. Statements included in this website have not been evaluated by the FDA. Products carried by the Natural Healthcare Store are not intended to diagnose, treat, cure, or prevent any disease.